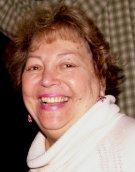 Bel Kaufman's book, "Up The Down Staircase" was published in 1964. Schools have changed drastically since Miss Sylvia Barrett taught English in Room 304 at Calvin Coolidge High. What correspondence would be exchanged between Ms. Barrett and her administrators, co-workers, and students' parents in 2009? Let's see.

To: All Faculty
Welcome back to the Shulamith Academy. A directive from the Board of Ed states that all teachers are to place the "tsvey" (2) pairs of latex "hentshkes" (gloves) in the center drawer of their desk In the event that any staff person should come in contact with blood or body fluids from an accident ("nisht do gedacht!"--it shouldn't happen), please be sure to use the one-size-fits-all gloves. Have a great year.
TB, Principal

To: All NEW Teachers:
Don't crack a "shmeykhl" (smile) until "Oktober."
JJ, Admin. Asst.

To: All Faculty
Workers in "moon suits" labored day and night during "Oygust" removing "sufit" (ceiling) tiles after a laboratory found they included 2 1/2 percent asbestos. The job is almost complete. "Deigen nisht!" (Don't worry!)
LT, School Nurse

To: All Faculty
Our first assembly will be held this "montik" (Monday). The topic: "Bullying." Mayor Michael R. Bloomberg said, "Simply put, there is no place for prejudice or hate or bullying in our schools." Each "klastsimer" (classroom) has 30 copies of Rita Y. Toews book, "The Bully - A Discussion and Activity Story." Please remember, "Many people dismiss bullying as just 'high spirits,' 'toughening up,' 'part of life.' It isn't. It is a junior version of 'farbrekher' (criminal) activity, and it causes immense harm."
TB

To: Ms. Barrett
"Mazl-tov!" You have been designated as the staff member to whom students can report bullying. Remember that all schools are required to report complaints to the Dept. of Education within 24 hours.
TB

Dear Ms. Barrett:
My "zun," Sammy, is in your homeroom (AKA "zombie time"). His "kompyuter" card lists a course titled, "Walking 296." According to the description, this course provides the student with ample opportunity to exercise and also to develop walking as a valuable lifetime activity. "Es veist zich mir oys" (It appears to me) that the prerequisite should be "Breathing 101."
Mrs. Charlotte Cohen

Dear Ms. Barrett:
Please place Malka in the "Power Seat" in your "zhurnalism" (Journalism) class. It's easier for her to pay attention in this seat, and, according to Martin Nemko, Ph.D. "instructors make eye contact with youngsters who are seated 25% of the way back and slightly to the side of center."
Mr. & Mrs. Feinstein

To: All Faculty
We've removed the latest issue of Mad magazine from "di bibliotek" (the library). We disapprove of the PC term, "Scholastically persistent," which is used for that clod repeating "zibetsik" (seventh) grade.
We've added several copies of "KIss My Math - Showing pre-Algebra Who's Boss" by Danica McKellar.
FF, School Librarian

To: All Faculty
"G'vald!" (wail of sorrow) We've just discovered a typo in last week's memo: "A faculty forum will be held to discuss the proposed changes in the grading policy. All INTERESTING faculty are invited to attend." It should have read, "All INTERESTED faculty are welcome."
TB, Principal

Dear Ms. Barrett:
We've received a letter of "tayne" (complaint) from one of our Special Ed students. He objects to your car's bumper sticker, which reads:
DYSLEXICS HAVE MORE FUN.
Please remove it "teykep" (immediately).
TB

Dear Sylvia:
How about meeting me after 9th period for a Ben & Jewry "ayzkrem" (ice cream) cone? "Moishmallow" or "Mazel Toffee"?
Belle

To: All Faculty
Good luck at tonight's "Open House." Remember:
"Meshugeneh gens, meshugeneh gribenes." (Goofy parents, goofy children).

To: Faculty Members
FYI: Almost 60% of our students have a profile on a social networking site like Facebook or MySpace. And, we should be concerned that Facebook, MySpace and similar websites may be supplanting "mentslekh" (human) contact.
LSF, Chairperson

To: Faculty Members
Please be aware of a new term-- "helicopter parent." These "tate-mame" hover over their collegian children, ever ready to swoop in and meddle, er, "rateven"--to rescue.
TB

Dear Sylvia:
Check your mailbox after 9th period I've left you a copy of a new book, "Bardisms - Shakespeare for all Occasions" by Barry Edelstein. Check out the quote to be used at a briss: "This was the most unkindest cut of all." Every occasion is covered.
Barbie

To: Physical Ed. Teachers
Injuries to American children during physical ed classes increased by 150% from 1997-2007. Children get hurt by running into equipment or having contact with structures or other persons. They had heat stroke, fainting and heart palpitations. Boys had more cuts and broken bones than girls. We must make gym class safer.
FB

To: All English Teachers
I thought you might enjoy this:
A HAIKU ABOUT BEING SICK
PHLEGM: A FUNNY WORD -
FIVE CONSONANTS, JUST ONE VOWEL!
I HATE GETTING SICK.
FF, School LIbrarian

To: All Faculty
Effective immediately: The wearing of "Legible clothing"--T-shirts or caps with messages imprinted on them--are to be discouraged. We find these imprinted T-shirts particularly offensive:
I READ HARD BOOKS
THE BEST PART IS INSIDE
JEWCY
I VISITED THE VIN-YID (Martha's Vineyard) at the same time as Obama
TB

Dear Ms. Barrett:
Please refrain from referring to me as "Bookman"--a reference to the tough-talking, No Nonsense library cop who busted Jerry Seinfeld for his long overdue copy of Tropic of Cancer. It's bad manners!
FF

Dear Ms. Barrett:
Did you really give your creative writing students this assignment?
Write an obituary for Cliffs Notes founder, Clifton Hillegass,
TB

To: All Faculty
Enclosed is a copy of an article about Mayor Bloomberg (NYTimes, 7/20/09). Please note how he dips into his Yiddish
dictionary and comes up with the words
"meshugenah" and "yenta."
TB

To: Alyse
I thought you would enjoy reading the obit that Melvin Applebaum wrote:
Clifton Hillegass, born 1918, founded Cliffs Notes in 1958, died, age 83, Lincoln, Neb. Hillegass served in Army, had idea for Cliffs Notes (book synopses), students liked, teachers hated Recalled as philanthropist, also good goy. Funeral Tuesday. Pastor read Book Common Prayer. "We commend Clifton..commit body to ground...earth...ashes...dust...amen.
Sylvia

Dear Ms. Barrett:
Please give Seth, my "zuninkeh" (darling son), a double set of English textbooks. Since his dad and I have joint custody (he lives with me on M/W/F and every other "sof-vokh" (weekend), duplicates of all texts are required. A dank.
Gail Rosner

Dear Ms. Barrett:
I thought you'd like to know that one of your English students was accepted at the Sy Syms School of Business at Yeshiva University. His winning essay was titled, "Welcome to (Perry) Ellis Island."
GFT, Guidance Director

Syl:
Have you posted your students' mid-term grades on the "Wailing Wall"?
Bette

MEMO: To all English Teachers
Please take a minute of your Free Period to check the "vashtsimer" (bathroom) in the English wing. We've been experiencing an increase of graffiti. Yesterday the custodian removed a hand-painted sign above the fire alarm, which read:
"Where there's smoke, there may be salmon."
LSF, Chairperson

Dear Ms. Barrett:
Did you ask your students to write an ad for an opera-themed seder titled, "Die Sedermaus"?
LSF

To: All Faculty
Please warn your students of the increasingly common practice of "lapjacking," the stealing of unattended laptop computers. :-(
FF, Computer Instructor

To: All Faculty
"Gut naes" (Good news). I'd like to share the findings of a Brandeis Professor:
"Being an only child has some advantages.
"Onlies' tend to score slightly higher on achievement tests, have more self-esteem, and are high achievers."
SOL, Guidance Director

Dear Ms. Barrett:
Good lesson on June 10. Topic: "Jewish Mothers' Haiku." The students particularly liked this one:
A lovely nose ring -
excuse me while I put my
head in the oven.

But...did they comprehend the Haiku used in your final summary?
Yenta. Shmeer. Gevalt.
Shlemiel. Shlimazl. Tochis.
Oy! To be fluent!
LSF, Chairperson

Syl:
LSF is observing me on "Fraytik" (Friday); I'm up for tenure. What do you think about a lesson in which students compose "Pick-Up Lines" used by William Shakespeare?
Belle

Belle:
Sounds original! But Chris White said that you should be prepared for these replies:
"Wouldst thou away to yon Motel 6 with me?"
Et tu, Cutie?"
Sylvia

To: All Faculty
Please inform all of your Home Room students that we are now offering a course titled, "Making It with Mademoiselle"--a sewing course!
GFT

Dear Ms. Barrett:
Rumor has it that the English office will be furnished with two La-Z-Boy "Maxim" recliners. The "Maxim" is packed with "zeks" (6) heat-massage motors, a cup holder, a built-in speaker phone, an extra Jack for the computer modem, and an optional answering machine. Sorry! "A nechtiker tog." (Not a word of truth in it.)
LSF, Chairperson

Sylvia:
LSF has informed me that my classes will be reading the following "bukh" next month: "And I thought I was crazy! - Quirks, Idiosyncrasies and Meshugaas" by Judy Reiser. One question for this "Judaically challenged" teacher: What does the word "mushugass" mean?
Kathy McDonald

Kathy:
Jackie Mason and I pronounce the word as "mishegoss." It means "insanity, madness, irrational behavior, or a total figment of your imagination" I assure you that the word will NOT appear on the verbal part of the next S.A.T. exam.
Syl

To: All Computer Teachers
"Shtick" and "kibitz" are included in the Spell-Check function dictionary of Wordperfect.
LSF

To: All English Teachers
We have just added 3 copies of the following book: "Mother Gooseberg's Book of Jewish Nursery Rhymes" by Jeffrey and Lila Dubinsky. I think your 13-year-old boys will enjoy "Little Jack Spitzer":

Little Jack Spitzer,
On his bar mitzver,
Said to his guests, "god sent ya!"
He went to the door,
Gave his gifts to the poor,
And said, "Today I am a mensch."
LSF, Chairperson
-------------------------------------------
Marjorie Gottlieb Wolfe is a retired business teacher. Her mother placed a dab of honey on her 1st grade notebook, which was intended to be a symbolic foretaste of the sweetness of learning. IT WORKED!
****
Marjorie Gottlieb Wolfe is the author of a new book titled, "Yiddish for Dog & Cat Lovers." To order, click here:
Marjorie Wolfe
19 Market Dr.
Syosset, NY 11791
$13 (plus $3.50 postage & handling, USA)
$13 (pus $5.00 postage & handling, Canada)