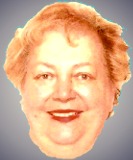 *In Yiddish, the word desk is "shraybtish"
According to the National Association of Professional Organizers, organized people save "tsayt" (time) and "gelt," make more money, and have lower "druk" (stress) and frustration levels. I normally follow the philosophy, "Az me hot a sach tsu tun, laigt men zich shlofen"--If you have a lot to do, go to sleep. But today, I'm going to get organized, examine my IN/OUT, and purge what's not needed.
Here are the contents of my IN/OUT box:
Order form for Patty Kreamer's book, "How to Organize Your Life"
Playbill for Brad Zimmerman's show, "My Son the Waiter, A Jewish Tragedy"
8 1/2" x 11" photo of "The World's Largest Salami Menorah" at David's East Side Deli, Florida (12/21/08)
Article stating that Florida has created a Silver Alert program, similar to the Amber Alert. It is circulated when a person "zekhtsik" (60) or older, who suffers from dementia, goes missing.
Headline from the New York Post:
"The Most Hated Man in NY."
(Bernard L. Madoff)
Article (11/27/08), "WHITE HOUSE HONORS HANUKKAH WITH CHRISTMAS TREE."
The President and the first lady invited leaders of America's Jewish community for a Hanukkah reception at the White House...the following month...but raised eyebrows by putting a picture of a Christmas tree on the invitation. The message reads that the couple "requests the pleasure of your company at a Hanukkah reception," written beneath an image of a Clydesdale horse hauling a Christmas fir along the snow-dappled drive to 1600 Pennsylvania Avenue.
Thank-you note from my son, Daniel. My birthday present to him was a gift subscription to JDate!
New York Times (City Room) article, stating that New Yorkers born in 2006 can expect to live an average of 79 years, four months longer than those born in 2005. "What that means is if you live anyplace else in the country and you want to live longer, you move here to New York," said Mayor Michael R. Bloomberg.
Sales receipt from Barnes & Noble for the purchase of a book titled, "Don't Yell Challah in a Crowded Matzah Bakery" by Mordechai Schmutter.
Article stating that the Kushner Int'l Mezuzah Bank, under the auspices of Chabad of Bal Harbor, FL, offered FREE mezuzahs to families in need. They have helped nail in more than 5,694 kosher mezuzahs in 18 countries on 5 continents.
Article stating that comedy writer and producer, Michael "Mickey" Ross, donated $4 million to endow an academic chair in Yiddish language and culture at UCLA.
Index card containing a joke:
When Golda Meir held the office of Israeli Prime Minister, she tried to encourage Henry Kissinger to make Israel a top priority.
He sent her a letter: "I would like to inform you that first and foremost, I am an American citizen. Then, secondly, I am the Secretary of State. And it is only thirdly do I consider myself a Jew.
Golda Meir wittily responded: "In Israel, we read from right to left."
Article titled, "Madoff scandal spurs anti-Semitic stings on Web."
After Madoff was arrested on charges he bilked clients out of some $50 billion through a mammoth Ponzi scheme, some extremist Web sites, including white supremist sites, were tying the Madoff scandal to anti-Jewish conspiracy theories about Jews dominating the world and manipulating world events such as the 9/11 terrorist attacks.
New York Times obit (12/21/08) for Rabbi David Lieber The last two paragraphs read:
"In 1997, a small group of Orthodox rabbis issued a statement declaring that the Reform and Conservative movements were 'not Judaism,' and urged Jews not to attend synagogues affiliated with them.
Rabbi Lieber called the statement 'sheer chutzpah.'"
Article by Chabad Lubavitch stating that a new bill in Congress will seek to ensure that condo dwellers enjoy the same religious freedoms that others do. Jerrold Nadler intends to make it illegal for apartment buildings or condo owners to prevent Jews from hanging a mezuzah on their front door and on all doorways inside their homes
Index card contain Michael Wex's Yiddish words for the expression, "Sit and gnash your teeth and be quiet":
"Zits in krits in sveig."
Cindy Adams column (New York Post, 12/5/08): A Greenwich Village antique shop posted the following sign:
"Going out of business. Everything for sale, including framed photo of my mother."
Letter from reader, Carl Lang, posted in the News & Observer (12/7/08):
"One aspect of the relationship between customers and these 'chutzpah' credit card banks is that the money that they are refusing to lend is the same money they have accepted from the same tax-paying customers. I think this redefines that stuff that floats to the top in a stagnant pond."
Index card stating that "1/3 of the waitstaff at the new 2nd Avenue Deli are Chinese."
Pair of "forkchops." (They have a knife and fork on the opposite end for Westerners who can't manage the sticks.)
Der Bay, The International Anglo-Yiddish Newsletter, Jan. 2009. Mazel-Tov! "Der Bay" celebrates its Chai (18th) issue.
Article from New York Times titled, "Betrayed by Madoff. Yeshiva U. Adds a Lesson" by Javier C. Hernandez. (Yeshiva Univ. awarded Bernard Madoff an honorary degree in 2001 and its trustees elected him treasurer in 2002). Rabbi Blech, who teaches the philosophy of law course at Brandeis, said, "In elevating to a level of demi-worship people with big bucks, we have been destroying the values of our future generation. We need a total rethinking of who the role models are, who we should be honoring." He adds, "Just because you eat kosher and observe the Sabbath does not make you good. If you cheat and steal, you cannot claim you are a good Jew."
Roger Bennett and Josh Kun ("And You Shall Know Us By The Trail of Our Vinyl - The Jewish Past as Told by the Records We Have Loved and Lost," wrote,"In the 1920s, there were so many Yiddish speakers in New York City that the Yiddish daily newspaper, the Forward, outsold the New York Times."
Ad from "Too Jay's," a restaurant chain in S Florida:
"St. Patrick's Day - Eat, drink and be merry - for tomorrow we turn back into a Jewish Deli. (Join us March 17 for our traditional Corned Beef & Cabbage dinner for only $9.95.)
Article titled, "Have you ever been 'bageled'?"
by Jessica Levine Kupferberg.
The Bagel Theory is the principle that we Jews, regardless of how observant or affiliated we are, have a powerful need to connect with one another. To that end, we find ways to bagel - basically, to out ourselves to fellow Jews.
Sales receipt for a 50th Anniversary gift from my sons for a MacBook, PLUS a $99 gift certificate for 52 hours of one-on-one instruction.
Rough draft of portions of a speech titled, "The Bintel Brief in 2009," to be given by the writer"
Dear Editor:
I've raised three daughters in a nice middle class "heym." My youngest "tokhter" is a real "shnorrer" (cheapskate.) In English I'd call her a "frugalflaunt"-- someone who flaunts her frugality, She doesn't have a regular savings account; she has "mattress money." Her furnishings: "Dumpster Decor" or "Early Depression" furniture. She'll sometimes go to Costco and eat her lunch by sampling food served by the various demonstrators. She's learned how to live like royalty with a peasant's pocketbook.
She once even had the "chutzpah" to beg on Madison Avenue. An "alrightnik" told her that he "never hands out money on the street. Her reply to him: "What should do? Open an office?"
Recently she told me, "Forget about dry-cleaning a dress--that's about $8.50 in Manhattan. I just donate it to the Salvation Army. They launder it, dry clean it, and I buy it back for two bucks. I saved $6.50."
Is there anything wrong with being a "shnorrer"?
Marlene
Dear Editor:
My 8-year-old grandson has been diagnosed with Attention Deficit Hyperactivity Disorder (ADHD). He's one of about 3 1/2 million kids who are taking medication like Ritalin, Concerta, and Strattera for hyperactivity, inattentiveness, or both.
I disagree with his doctors; I think it's a waste of gelt to put him on drugs; he'll outgrow it.
In "my day" we simply called it "shpilkes."
Should I interfere?
Molly
Article titled, "The Miracle of the Beach"
by Mark Miller:
For every Jewish family who witnessed this on Jones Beach in New York, on November 3, 1952, it would become indelibly etched into their consciousness. At first, it seemed like some bizarre dream or unbelievable fantasy. Yet there it was happening before their very eyes, so it could not be denied. Mort and Leila Levine actually allowed their children to go swimming less than half an hour after eating! And that was just for starters. While the surrounding Jews observed with their mouths open in shock, the Levine children emerged from the ocean, dried off, and were not made to wear sunblock or t-shirts; nor were they made to sit under a beach umbrella with sunglasses or a hat! Conveniently two members of the Greater New York Rabbinical Board were three blankets away and proclaimed what they saw to be a holy miracle.
("A dank" to Mark Miller)
Index card containing "Murphosky's Law":
"After you've won the 'Manischewitz Matzoh ball Cookoff.' your mother-in-law will always say:
"Could use a little salt."
(Source: Marnie Winston "Yiddishe Mamas")
Copy of poem, "He's Still My Bill" (A reprise of the Show Boat classic as sung by Hillary Clinton after the South Carolina primary)
Along came Bill.
He woudn't shut his trap.
He yammered at the church
and at the shopping mall.
He tried to knock
And mock Barack.
And all that palaver
Just turned off the voters,
But I will not say, "Oh Bill, please stay away."
He just may still
Draw voters my way in Super Tuesday's votes.
If so, he's still my Bill.
(Source: Calvin Trillin, "Deciding The Next Decider - The 2008 Presidential Race in Rhyme")
Quotes from Robin Pogrebin's New York Times article, "For Jews, Madoff Scandal Brings Feelings of Betrayal and Shame," 12/24/08:
"Jews are also grappling with the implications of Mr. Madoff's deeds for their public image, what one rabbi referred to as the "shanda factor, "using the Yiddish term for an embarrassing shame or disgrace. "
Rabbi Wolke said he did not believe Mr. Madoff could ever make amends. "It is not possible for him to atone for all the damages he did," the rabbi said, "and I don't even think that there is a punishment that is commensurate with the crime, for the wreckage of lives that he's left behind. The only thing he could do, for the rest of his life, is work for redemption that he would never achieve."
____
Marjorie Gottlieb Wolfe is the author of a new book titled, "Yiddish for Dog & Cat Lovers." To order, click here:
Marjorie Wolfe
19 Market Dr.
Syosset, NY 11791
$13 (plus $3.50 postage & handling, USA)
$13 (pus $5.00 postage & handling, Canada)