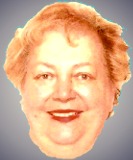 John McCain's campaign bus is known as the "Straight Talk Express." It's a 16-year-old bus with "akht" (8) Captain's chairs, a "vashtsimer" (bathroom), a "televisye" tuned to MSNBC, and a galley stocked with Dunkin' Donuts and Coke, the staples of the McCain "diete."

And then there's the Mini-Bus which departs from Hollywood Boulevard, CA. Here one can see where the stars live: Julia Roberts, Robert Redford, Jennifer Lopez, Leonardo DiCaprio, Nicholas Cage, John Travolta, and Jack Nicholson.

And the newest tours are "Foreclosure bus tours" in California, Michigan, Nevada, Florida, and other slumping states. Julie Lance wrote, "We're entering a whole new realm of selling real estate ("grunteygns"). I'm actually enjoying seeing how creative people are getting in these dire times. It brings out the best and the worst...The best are those who are making lemonade with those lemons."

Two "grunteygns" firms in Port St. Lucie and Tequestra, FL, offer "Foreclosure Tours." Realty Unlimited Inc. GMAC Real Estate rented a 47-seat coach, dubbed the "Foreclosure Express" to visit 10-12 homes on a four-hour tour.

In Las Vegas, tour buses are commonplace on the Strip, but there's a new tour bus in town focused on the floundering housing market. Southern Nevada has a bus tour that takes people directly to homes in need of a buyer. Real estate agents said it's a new approach to get the Valley out of the housing slump. Each tour is tied to a specific "shkheyneshaft" (neighborhood). Once on board the bus each person is given a "heft" (notebook) with information about the properties up for sale in that neighborhood, as well as the schools that are in that district. The bus tour runs 3 days a week, takes an hour, and are free.

All that seems to be missing is a humorous list of "grunteygns" terms. Does "close to public transportation" mean "built over a 'unterban' (subway)"?

Does "bright and sunny" mean "venetian blinds are not included"? Does "near houses of worship" mean "fanatical denomination next door"?

The website, domania" (brought to you by LendingTree, LLC) and others explains what brokers say vs. what they really mean. So, before you get on da Repo Bus, keep these terms in mind:

"Seller motivated"
"Der bank" is about to foreclose on the owner's great investment property

"This market is HOT right now."
There's a sucker born every minute.

"I sell real estate because I like to help 'dos folk' and be part of the community."
A couple of more sales like this one and I'll have enough "gelt" to get the h--- out of here.

"It's a three-car garage."
If one of them is a motorcycle!

"Family neighborhood."
Lots of screaming kids and barking dogs.

"Upgraded flooring."
New area rugs from Walmart.

"Close to shopping."
There's a 7/11 on "der vinkl' (the corner).

"Original owner."
"Dos hoyz" is older than the Bible.

"For Sale By Owner (FSBO)
Too cheap to pay a realtor.

"Extra security"
Front door has a lock and key.

"Gourmet "kikh" (kitchen)
Has a sink and oven.

"Large lot"
Makes up for the itsy, bitsy "kleyntshik house.

"Makh shnel!" (Hurry up).
The house has been sitting on the market for 97 days.

"Cozy"
This "heym' has less than 300 square feet.

"Charming"
Slightly bigger than cozy.

"Good opportunity to buy in (pick a town name)
This is the most heinous property in town, but you'll be in a good school district.

"Gleaming hardwood floors'
The current owner spent "dray hundert" ($300) to polyurethane the floors, but the foundation is crumbling.

"Priced to sell"
"Bilik"--cheap. The last 5 digits of the price are 99,999. Note: A research team at Cornell Univ. found that people in S. Florida will pay more for a house if its listing price does NOT end in a bunch of zeros. Price the house at $325,420, rather than $326,000.

"Needs updates"
The appliances bought before 1950, and include a 1948 "fridzhider" and an old Maytag hand-cranked wringer washer, circa 1950.

"New roof"
The house needs new siding and major structural work.

"Zunik" (sunny)
The hours needs a new roof.

"Commuters dream'
"Der tsug' (the train) runs 3 feet behind your house, once an hour, and every 20 minutes during rush hour.

Near public transportation
The train station is only 5 miles away, but the only road to it is a toll road, and there's a $20 a day charge for parking at the station.

"Needs cosmetics"
The roof has holes in it, the walls have been eaten by termites, and the foundation is crumbling.

"Awaiting decorator's touch"
See "Needs cosmetics" and add 20 gallons of paint.

"New construction"
Every home in the cul-de-sac looks exactly alike.

"Colonial"
Our drive-by at 45 mph. confirmed that the place has 4 walls and a roof.

"Rustic"
The house does not have plumbing or "elektre" (electricity).

"Convenient"
The house is next-door to a shopping mall and across the street from a Solomon Schechter school, which means you have to wait 20 minutes to pull out of your driveway in "der frimorgn" (the morning).

"Nestled in the pines"
This house is toast in the next forest fire.

"Rushing stream on the property"
You're in the flood plain, baby.

"Seasonal access"
You can't get to it eight months out of the year.

"Airy bathroom"
An outhouse.

"Natural home exterior"
The house hasn't been painted since Eisenhower was president.

"Abundant local wildlife found on property"
The local high school kids use the property for their weekend keggers.

"Walk2Shul.com"
An online real-estate listing service that specializes in properties situated within one-and-a-half miles of an Orthodox synagogue.
________
Marjorie Gottlieb Wolfe is obsessed with real estate and home design. She's looking for an apartment in Manhattan that can be described as "Your oasis in the sky."