Few moments in a Jewish parent's life are more special than when your child demonstrates that their faith is both a source of strength and joy. Last Rosh Hashanah and Yom Kippur, I experienced such a moment with my ten-year-old son, Joshua.

Our family belongs to Congregation Ahavath Sholom, where all three of our children attend religious school and services. Joshua is typical in that he loves playing games on his computer and his Nintendo Wii. He has played baseball since he was four, and shows talent for the sport that escaped me when I was growing up.

My father, Robert Alpert, died of cancer when Joshua was only two-years-old. Joshua spent a great deal of time with my dad those first two years of his life. He was the first male grandchild born to our family, and my wife, Karen, and I were determined to do what we could to help Dad have a relationship with his grandson. In spite of the illness and limitations it placed on Dad's activities, it was clear that Joshua was close to his "Papa."

My father was very active in his synagogue. He was a member of the men's choir, and held positions of leadership in the Men's Club, and in the Jewish War Veterans. He was a mensch in every sense of the word. He loved to dance and sing, and had no shyness about him. This is relevant to my story because I have an uncanny sense that Dad's spirit is alive in my son.

In the years following my dad's death Joshua would constantly ask me questions about his "Papa." I was not much of an athlete as a child, but my dad was athletic, and particularly loved baseball. He was a big Red Sox fan and handed down some very special autographed baseballs to Joshua. When Joshua played ball as a small child, after he made a particularly good play, or got a big hit, he said he could feel "Papa's" presence.

Joshua has always been very involved in the kid's religious services. He had a good example, by way of his older sisters, who both excelled at their Hebrew studies, and Torah reading. He would constantly raise his hand, and volunteer to participate in the service, including portions that called on abilities beyond his reach. Being at the front of the room always put a huge grin on his face.

Last year, my wife Karen came across a small shofar which she brought home. Though I was unable to blow it well, Joshua, with the help of his sisters, figured out how to blow it, with limited success. As Rosh Hashanah approached he began to practice around the house. He started asking me if I thought he could blow it on the bima this year. At our synagogue the shofar is blown by the rabbi, and two to three other senior congregation members. I had no answer for Josh, and I did not really believe he would want to attempt blowing it in front of a full congregation.

The first day of Rosh Hashanah, as the time for sounding the shofar approached, Joshua was by my side, asking if he could blow his shofar on the bima. I told him to go ask one of the board members, who was standing a few feet away. Shofar in hand, he asked and received an "I don't know why not response." I suggested he just go to the front row and blow his shofar from there.

As the end of the service approached, the regular sounders were on the bima. Josh went to the front row, and one of the men waived him up. There he remained for the rest of the service, blowing with all his heart, with a huge grin on his face between each sounding. Needless to say it caused quite a stir, and brought many smiles to the faces of the congregants. It was an amazing moment that I thought could not be surpassed; but I was wrong.

Josh could not help but notice that his small horn was less impressive than the full sized ones that the rabbi, and other congregants blew. As we were leaving the services he asked if he could buy a larger shofar like the ones he saw in the gift shop. I told him we could not afford such a purchase at this time, but this did not deter him. He insisted he wanted to buy one with his own money. Joshua had been saving to buy an electric scooter. Shofars cost close to $200, and he had $160+ so he asked if he could use it to make the purchase. I will admit I tried to talk him out of it by pointing out there was only one more chance to blow it; on Yom Kippur. He persisted, so I relented on two conditions:

He had to use his own money, and I had to be satisfied he could sound a large shofar before making the purchase.

I thought he would change his mind when the time came to part with all his savings, but I underestimated my son's resolve. That Sunday, about fifteen minutes before religious school was dismissed, Josh told me he found a shofar he wanted to buy. I asked him how he could afford it, and he replied that the ladies who ran the gift shop would sell him one for what he had on him. I followed him into the shop, and he showed me a big shofar. It was over two feet long, and it was indeed beautiful.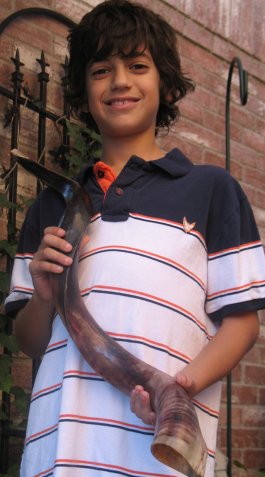 I was still not convinced this was a good idea, and I said I wanted to hear him blow it first. He produced a long clear blast, and I lost my last excuse as he emptied his wallet onto the counter. It almost never left his hands in the days that followed, and he practiced blowing it continuously.

At Kol Nidre service, the rabbi took me aside and said he had talked to the other congregants who usually sound the shofar, and they had all agreed they wanted to honor Joshua with doing the final sounding solo. He asked me if I thought Josh was up to it. When I asked Josh, I saw a small crack in his resolve; but he said he would probably be able to do it.

When my wife joined me for the concluding service, she informed me that Joshua had changed his mind. She said he had been practicing all afternoon and he seemed to have lost his ability. I told her that Josh would have to explain that to the rabbi. As the end of the service approached Josh walked, with his new shofar, to the front, where he got the rabbi's attention, and stepped up on the bima. They had a brief conversation. I could not hear what was said, but I could see Josh shaking his head apparently declining the honor. I learned later that the rabbi had conceded that Josh did not have to blow it alone, and that the rabbi and the ritual director, would help him sound the blast.

As the service came to a close, the rabbi said he wanted to share a story he had heard from the ladies at the gift shop. He related how a young man had used his "life savings" to buy, not a game, or a scooter, but a shofar. He then told the congregation that he had asked that young man if he would honor the congregation by sounding the final blast with his new shofar. He then called Josh up to the bima. Josh was given a stool to stand on, and a place by the microphone.

The time for the final sounding came.

The rabbi, the ritual director, and Josh, all raised their shofars to their lips. I held my breath as they prepared for the final blast. As Joshua began to blow, the rabbi and the ritual director lowered their shofars, leaving Joshua as the only one sounding the ultimate blast. It was a long, clear blast, that filled the room, and when Josh lowered his shofar from his lips, the smile on his face brought tears to my eyes.

I'm sure there are appropriate Yiddish words for the joy, and tears that moment brought to me, but I couldn't think of "kvel" and "nakhas" at that moment. I know the joy of that memory will be with me the rest of my life, and I admit to feeling my dad's presence in the way that Joshua had overcome his fear. Thus ends my story of a small child, and the financial sacrifice he made to share his love of his faith with his congregation, leaving his father and mother more proud then words can ever express.
---