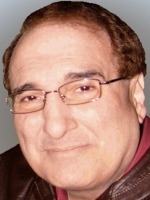 Shalom My Gantseh Megillah Family and Friends,
This is a very exciting year for the Gantseh Megillah because we have just started our tenth volume, which means we have now surpassed ten years on the Web. Additionally, this February will be the 100th edition of our newsletter, and we may even be putting out the 300th issue of the Weekly Megillah before the end of the year.
A dozen years ago, we published the first Glossary of Yiddish Words and Expressions, and we immediately started receiving positive feedback from visitors to the Web site. Deb Edery, one of our first visitors, contacted me with the idea of publishing an online newsletter of interest to the Jewish community. Arnold, and I, thought long, and hard, about the idea, and decided to give it a try.
In the late fall of 1998, we introduced the first issue of, what was then known as, the "Yet to Be Named Newsletter." We asked our readers to suggest, and then vote, on a permanent moniker for our publication. The Gantseh Megillah won with an almost unanimous decision.
Shortly after the first issue, we started to receive offers from writers who wished to contribute their talent to our effort of promoting Judaism on the Internet. Authors such as Eddy Robey, Lynn Ruth Miller, Joel Wayne, Marge Wolfe, and Brian Corleone (yes he is Jewish, even with that name) helped us to present columns, stories, and articles, on a variety of topics of interest to the world Jewish community, and its friends.
From the beginning, we have tried to offer articles on a variety of subjects, which cater to the tastes, and interests, of our readers. We even boldly ventured into such touchy subjects as politics, and religion, but we always emphasized personal interest, the arts, literature, and humour. It has also been our goal to make the Gantseh Megillah representative of our readership, so we encourage you to submit original stories, jokes, and information you would like to share in our publication. This invitation remains open to all of our Megillah family members.
Speaking of family, which is our entire raison d'etre, both Arnold, and I, consider all of you members of our very special family. Over the years, we have had the enormously rewarding pleasure of actually meeting, face-to-face, several of our subscribers. I particularly cherish my close email friendships, which I have developed with hundreds of others. Every once in a while, I pick up the phone, and call a Megillah family member , just for the purpose of saying hello, and to connect on a more personal basis. I must say, everyone has been enormously receptive, and we have endeavoured to keep our connection active.
As we enter our second decade of the Gantseh Megillah, we hope to constantly grow, and improve our efforts. As with any family, we need your support, and assistance, to accomplish our goals. Please tell your friends, associates, and family members about the Megillah, and encourage them to subscribe. If you are able, your financial contributions, large or small, are always needed to help defray the expenses of maintaining, and publishing, this project. It is through all of our efforts that we can ensure the Megillah will be around for a long time to come, and that it will continue to promote, and celebrate Jewish life on the Web.
This month, we are introducing, what we consider to be, a very exciting new feature; the Mark Your Calendar page. This section will be managed by our e-greetings maven, Roz Fruchtman. Roz is the designer, and owner, of the Say it With eCards Web site. She offers over 4,000, Jewish themed, eCard selections for every conceivable occasion. The Mark Your Calendar page will be your "go to" resource for keeping track of days of special note each, and every month.
Additionally, Roz will be presenting ideas, and insights, into the world of personal communications via the World Wide Web. Her musings should fit very nicely with our overall goal of developing a community, and keeping in touch. The world is a very big place, and taking the time to let special people in our lives know how much we care about them, prevents us all from feeling like we are being swallowed up by the crowd.
I hope that the next ten years of the Gantseh Megillah will continue to add enjoyment, entertainment and knowledge to your lives.
Thank you all for you loyalty, interest and support of our efforts for the past decade.
Much love to all of you,
Michael