On the day when Autumn arrived in my part of Southern California, it was 108 degrees outdoors. This was not unusual, but does present a challenge when advertisements exhort me to buy a new wardrobe in response to the chill in the air. No, I won't be getting my woolies out for quite a while, yet everyone who enters my home knows it is Fall, because the decor on the dining table is a celebration of the season.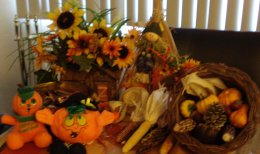 Every couple of months, my dining area is adorned with flowers and objects suitable to the time of year. Some of these things are new, some very old: all help me enjoy and appreciate the passage of time. When a season changes, the display which has been out is carefully packed away; then I go to the nooks where various tchochkes are stored and bring out the ones to be used.

What fun it is to handle and arrange these pretty things, each of which has a connection to my life story. Years ago, my memories were tucked away in cupboards, now they are a part of current experience. There is a cornucopia from a community bazaar which has been held for over twenty years, two little straw hats from a dear neighbor and sister doggy-mom, a copper candy bowl which belonged to a lady who was my room mate over thirty years ago, a straw broom bought from a local farmer who sells me pumpkins and squashes each year, two pumpkin dolls from a place where I did volunteer work: all arranged on a scarf which once belonged to my younger sister, Camille.

When friends visit, they hear stories about these things. I remember the where and when of each acquisition some from special events, others were gifts from dear people. Thus the years do not slip away unnoticed, as they are wont to do when one arrives at a certain age. Past and present come together, so that each meal nourishes both body and spirit.

Pretty things and memories are to be enjoyed. Don't let your heart gather dust on a the back of a shelf. Share it with those around you. May beauty be ever present in your life.