Shalom, Gang.
 Sorry about last month. That'll teach me to put off having a tooth pulled. Take it from me, a dental abscess is no fun!
 The big news for all you Mel Brooks fans, is the upcoming film version of his Classic television series, "Get Smart".  The film will star Steve Carrel as the bumbling Maxwell "Agent 86" Smart and the always charming Anne Hathaway as the seductive Agent 99. Alan Arkin is on board as "The Chief" and Terrence Stamp as the comically evil Zeigfried. Dwayne 'The Rock' Johnson is also appearing in the film, which is currently in production. Insiders speculate that Brooks' beloved character will have a rough go in the wake of the highly successful "Austin Powers" films, but if anyone can unseat Mike Meyers as the current 'Speilberg of Spoofs', it's Mel.
 Speaking of Anne Hathaway, the maydel may just turn out to be the queen of the remake. Rumor has it that she's also in negotiations with director Diane English, to play Peggy Day in a remake of George Cukor's classic, "The Women". Norma Shearer played the part in the original, which was the first film ever to boast an entirely female cast. Also rumored to be slated for the flick are Meg Ryan, Candice Bergen and Lisa Kudrow. All that's known for sure is that the film is set to begin shooting this fall with an anticipated release date in late 2008.
 And if you're going 'Genug es genug!' over the recently released "Shrek the Third", you'd better start tearing your hair out now, because in addition to this one, a Christmas film with the CGI cast, and also 'Shrek 4' are in various stages of production, with the latter expecting a release in 2010. Maybe Mike Myers feels secure in his ogre personae, seeing as how the abysmal failure of "The Cat in the Hat" nearly put his career in the grave next to Dr. Seuss, who was turning over in his. But for all you Austin Powers fans, fear not that Myers has abandoned you, for Myers is also beginning pre-production on yet another romp with the International Man of Mystery, along with Doctor Evil, Fat Bastard, et al.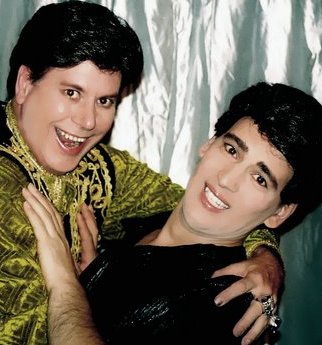 Finally, on a personal note, after eight years in retirement, I will soon be treading the boards, (or buckling them if I don't lose some weight,) with a new comedy act. After two years of friends kvetching at me to start performing again. That's right, the 'Godfather of Glitz' is commin' back! I finally decided that in this world of oppressive political correctness, the public needs more insult comedy. So, sometime in the not-too-distant future, along with my sidekick Paul Thomas, I will begin my first tour in more than twenty years. So, if you see my name playing in your town, I hope you'll come out and say 'Hi' and maybe split a pastrami on rye and a glessele tay. Maybe some cheesecake or a blintz…oh well, so much for losing weight. Anyway, I'll keep all my favorite Megillah readers posted. But don't think I'll abandon you all; I intend to keep writing my column here, regardless!
Till next week, Gang!