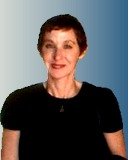 My new year's resolution was to think outside the box in regard to my social life. I began by joining Facebook, which then led me to Tribester, a Jewish dating site. Soon thereafter, some young guy Hot Listed me on Tribester and "friended" me on Facebook. While this made me smile, I didn't take it seriously. He was young enough to be, well, my brother, that is, if I were the eldest and he were a late-in-life baby. Still, I looked at his Facebook page, which, unlike the pages of others, contained "updates" that were interesting and thought provoking. Huh.

On a Friday afternoon, he sent me a message: "Your pic makes me smile! You're a gorgeous woman!" While I was retrieving the message, he caught me on Facebook, and we IM'ed. I found him interesting, intelligent, warm, funny, and very Jewish! For someone his age, he knew a lot of Yiddish. When he invited me to meet him for a drink, however, I turned him down, based solely on his age. Nevertheless, I kept thinking about him and, apparently, he about me.

Early Sunday morning, he e-mailed me again, inviting me for "brunch, lunch, or dinner" that day. Part of me thought that it would be fun, but the other part didn't want to waste his time or mine. I said that I would enjoy seeing him but that I didn't want to keep him from women his age, adding, "You'll want to have a family someday." He replied, "Aww, slow it down there. Today is Sunday. Before a family, I'd like to have an enjoyable Sunday, whether that's with you or arguing with the parking attendant in the lot at Canter's." Although I declined his invitation, we IM'ed for an hour, during which I gave him mixed messages.

To his, "Maybe there is a deep and complicated level of questioning [about seeing each other] to put ourselves through?" I replied, "I don't know. It's not that I wouldn't enjoy your company, but it wouldn't go further than that . . . Oh, you make me smile! If you were at least, let's say, 40, I would be interested in you beyond friends."

He responded, "I'll leave it up to you then. This box will always be here on Facebook for you to type into when you want to smile. Perhaps I can be that figure that looms in the background, someone you resort to when you want to smile, on a day when the world makes you want to frown, someone you know who thinks you're great, sexy, and wonderful . . . "

Over the next few days, we continued to e-mail and IM. He wrote, "Wow, the more we write, the more we're outgrowing our box. You're making me really want to meet you." The feeling was mutual. I decided that we should talk on the phone. I must admit that I'd been hoping that I would find him too young and could then feel comfortable dismissing him from my life. No such luck. We spoke for two and a half hours, but I was hooked when I first heard his voice.

During that conversation, I learned that he had seen my picture some time ago on a Meet Up e-mail. He had found me quite attractive and thought that I was about thirty-five years old. Later, when he saw that same picture on Tribester, and learned that I'm fifty-three, he wasn't dissuaded. He told me that he does not relate to people his age, finding them flighty and unsure of what they want. Except for his use of the word "random," there was not one moment in that telephone conversation in which he seemed younger than I am.

Now I was really conflicted. The only thing that I knew was that I had to meet this man. We made a date for Saturday morning.

When I opened the door, he walked in and immediately picked me up—literally. It just felt right. We spent a wonderful day together, culminating in his making us dinner. And as for our "box," it's too late to go back there. So, at least for now, this is where I will remain—outside the box.